Freelance pricing: hourly rate or project fee
€35
Do you go for an hourly rate or a project fee ? How do you decide to go for one or the other or maybe even a combination of the two? This masterclass reveals the 3 most important pieces of the puzzle and how to fit them together to choose hourly rate or a project…
€35 Buy now
Keep it simple and transparent
Bonus: project fee, the next level
Description
Do you go for an hourly rate or a project fee ? This is a question that frequently pops up, especially when a price offer has to be made for a new assignment.
How do you decide to go for one or the other or maybe even a combination of the two?
This masterclass reveals the 3 most important pieces of the puzzle and how to fit them together to choose hourly rate or a project fee for your freelance work.
This class is meant for the freelancer that finds himself often in between choosing hourly rate or project fee. There are no specific skills or experience required, but it does come in handy to have a realistic situation in mind when following this class.
After this class, you will understand why hairdressers most often use a project price and not an hourly rate. You will know why in certain cases, it's better to go for a project fee rather than an hourly rate. And lastly, you will feel more confident to make that compelling offer to your potential customer, heightening your chance of getting it!
By the end of this class, you will no longer be in doubt what to choose and how to present it. Ready for it? Let's go!
About the instructor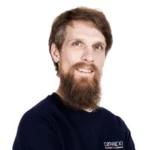 I'm Frederik and I love learning and teaching.
My goal is to achieve a bigger understanding of life
Nature is one of my greatest teachers next to a tremendous amount of books I hope to pass on some knowledge to other seekers of life I see and use freelancing as the ultimate tool for personal development
What you'll learn